Pajamas March Purchasing Festival
Share
Issue Time

Mar 8,2021
Summary
March ushered in our pajamas sleep wear shopping festival, let everyone feel the crazy discounts, come and learn more details with us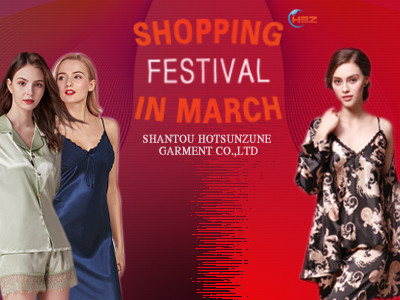 March is the peak procurement month. Many buyers from all over the world will make large purchases this month every years. We will also give customers some benefits this month. We will also launch corresponding discount activities to provide buyers and sellers with a better trading experience. Welcome to customers purchase our pajamas home wear in large quantities.

With the continuous improvement of people's living standards, people pay more and more attention to clothing taste, beauty and comfort. Our company pays attention to fine workmanship and high-end fabrics, which are exactly suitable for people's needs.

With the maturity of consumer concepts around the world and the continuous expansion of foreign markets, the Chinese market has increasingly become an important organization in the world. In order to open up a broader mainland market and occupy the mid-to-high-end market, foreign brands are cooperating with Chinese brands around the world faster and faster. Market competition is becoming more and more fierce. Our factory will provide customers with competitive prices and try our best to meet customer requirements for products.