What Kind of Pajamas Can Help You Sleep?
Share
Issue Time

Aug 31,2021
Summary
The material of pajamas is very important to our sleep quality. This article will compare different fabric pajamas to find out which pajamas are more conducive to sleep.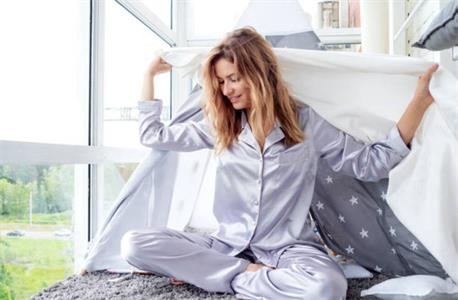 The material of pajamas is an important factor in ensuring you a good night's sleep. Every material used in
women's pajamas
has its advantages and disadvantages, but in the final analysis, you must choose the fabric that makes you feel the most comfortable on your skin while you sleep.
This also needs to be considered based on your skin type, skin condition, and your body temperature. The following is an introduction to which pajama fabric is most helpful for sleep.
Cotton
Cotton fabric is naturally lightweight, breathable, and soft to touch, meaning it doesn't tend to irritate the skin. However, cotton does a poor job of insulating which may make you feel cold during the winter months without a thick blanket. Its breathable qualities can be great to keep you cool in warmer months, however, cotton can often be inefficient at wicking away moisture. If you are prone to sweats, this likely won't be the most comfortable material for you.
Linen
Linen is the best choice for light and durable pajamas, which is why it is the main material for summer pajamas. Linen has the best breathability and will make you sweat 1.5 times less than when wearing cotton. However, the downside is that linen is easy to wrinkle and soil easily. Silk
Silk
This smooth material will not cause damage or irritation to dry skin and hair. Silk is a temperature-regulating fabric, which means it keeps you cool when you are hot and warm when you are cold. Whether you choose to use silk pajamas or match silk sheets, this material can provide great health benefits and an ideal sleeping environment.
Silk is a very versatile fabric. Because of its temperature regulation properties, it is an ideal choice for year-round use, so it is very suitable for making a series of pajamas. The natural protein fiber of the material makes it very smooth to the touch. Silk is arguably the pajama fabric most helpful for sleep.
Wearing a silk blindfold will also help you get a good night's sleep. The natural cooling effect of silk on the eyes ensures that your face does not become too hot during sleep, while also blocking light. This may be essential for some people, especially those who sleep lightly.
As mentioned above, silk works in conjunction with your body to adjust to your own temperature. Therefore, whether you want to cool down or warm-up, silk pajamas can meet your needs and let you rest at ease. If you want to know more about pajamas after reading the above, you can get professional solutions by contacting us.
As a professional
sleepwear
manufacturer, we have accumulated rich experience in the design and production of this field. We have a professional production team and a complete quality management department, and strictly control the quality from the selection of materials to the links in the manufacturing process. We will also provide thoughtful service and good solutions according to your needs. If you want to buy our silk pajamas, please contact us immediately!